Jason Schlierman- Today I'll be reviewing a lesser-known Disney Channel TV movie, Student Exchange, which originally aired in 1987.
Original Airdate:
November 29, 1987 / Running Time: 88 min. / Rating: TV-G
Director:
Mollie Miller / Writers: William Davies, William Osborne, Debra Frankel / Cast: Viveka Davis, Todd Field, Rob Estes, Heather Graham, Maura Tierney, Mitchell Anderson, Lisa Hartman Black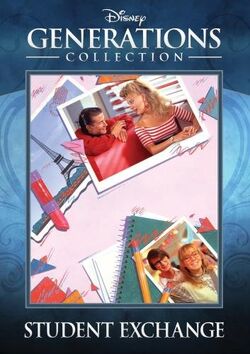 One of the biggest complaints from most long-time Disney fans about the programming on the Disney Channel today is that modern Disney Channel is too geared towards pre-teens and teens. With modern shows like
Good Luck, Charlie
or
Wizards of Waverly Place
, or tv films such as
Camp Rock
or
Lemonade Mouth
, it could be easy to forget that while the Disney Channel of the past focused on a wider demographic, it did still feature shows and films geared towards adolescents. One such entry is 1987's
Student Exchange
.
Originally airing in late November 1987, Student Exchange stars Todd Field (future director of the much more adult-geared In the Bedroom and Little Children) and Viveka Davis (V, V: The Final Battle) as Neil Barton and Carole Whitcomb respectfully. Neil and Carole are best friends who find themselves at the bottom of the popularity food-chain at their high school. It is so bad that no one ever notices that they exist, despite the fact that both of them are straight "A" students and have both been accepted to Ivy League schools.
Carole especially wants to be noticed and Neil finds himself interested in one of the more popular girls at school, Dorrie Ryder (played by a very young Heather Graham). Just as both of these friends are about to reach the height of frustration Carole learns that two exchange students, who were supposed to make a stop at their school, have been re-directed to another school instead. This leads to Carole hatching a plan for her and Neil to pose as the two exchange students in the hope of gaining notice and popularity. While Neil is at first reluctant, after an attempt to gain the fair Dorrie's heart goes wrong he decides to go ahead with it. Soon Carole and Neil are posing as Simone Swaare of France and Adriano Parbritzzi from Italy.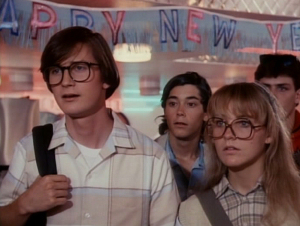 From the moment the deception starts, Simone and Adriano are a huge hit with the student body. Simone catches the attention of all the boys in the school, especially Rod (Party of Five's Mitchell Anderson), who is the popular jock on the football team and was dating popular girl Kathy Maltby (pre-News Radio Maura Tierney in her first major acting debut). He dumps his girlfriend to pursue Simone. This leads to a very jealous Kathy searching for a way to ruin Simone and win Rod back, which in turn leads her to discover some juicy secrets about "Simone" that will do just that. Meanwhile, Adriano has the ladies practically melting in his hand, including Dorrie, who wouldn't even notice him before as Neil.
Things start to get bad, however, after Adriano starts taking his new found popularity too far, leading to a motor cycle race dare that gets the friends in trouble with Vice Principal Durfner (Gavin MacLeod of The Love Boat fame). After a few close calls that almost blow their cover, Carole and Neil realize that their time as popular kids may soon be coming to an end, as well as their going to Ivy League schools if they are caught. Vowing to find a way to make sure that the impeding reveal of their true identities does not happen until after the school play Carole got into as Simone is over, Neil, as Adriano, hatches a desperate plan to keep the charade up for just a little longer.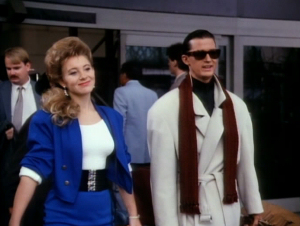 The film futures an ending that is very similar to just about every Disney Channel Pre-teen/ teen film today, with the climax of the story being a big song and dance number that I didn't find all that enjoyable. It also has a heavy dosage of late 80's style, which makes sense since that is when the film was made. It is, however, interesting to see many of these actors in what, for most of them, is one of their first studio roles.
The film had never been released in any home entertainment format until earlier this year when it made its DVD(R) debut. It was one of the first in a new collection of made-to-order DVD's from Disney Home Entertainment, sold exclusively through CreateSpace and Amazon.com's DVD-on-Demand service.
The "Generations Collection" and any other Disney DVD-on-Demand titles will generally be about as bare bones as you can get. But if you are a fan of any of these titles, you'll probably just be happy that they are even on DVD at all! As is typical of "Generations Collection" titles, the DVD comes in a case with a blue cover. "Generations Collection" is written in big type on the top of the front cover with the an image for the film right below that, and the film title is located at the bottom. The inside holds only the disc with no papers or inserts.
The disc itself is covered in a dark, navy blue color that once again as the "Generations Collection" logo nice and big on the top and then the film title on the bottom. Right below the film title is a bar code with all the other logos on either side. While there is no disc art, it is much easier to read then the metallic, artless DVD's of a decade ago and what we've been getting the last few years. I actually wish all artless discs were this nice.
The disc presents the film with 2.0 Dolby Digital sound, and while it isn't as amazing as the best Blu-ray ever released, for the average consumer it's just fine. In fact, for a made-on-demand DVD, it sounds rather good. There is no background fuzz that I could tell and you can hear the music, dialogue and sound effects clearly. The other main thing is that the disc will not play on a PC. It will, however, play on a Mac. While the back of the case doesn't mention that it plays on Mac's, it does mention not being able to play on PC's. I should mention that I've heard it does play on computers running Vista 7.
Getting the correct aspect ratio for their DVD releases has been an issue that has plagued many a Disney DVD over the years, and sadly that issue has carried over into this collection. Thankfully, being a tv film from the 1980's, "Student Exchange" is presented in its correct aspect ratio of 1.33:1, and thus avoids this issue. The back of the case also boasts that the film has been digitally mastered.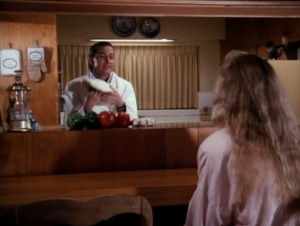 The colors look good for a late 80's tv film, with the picture being surprisingly clear for most of the film. There is a slight warm fuzz to the image with a slight film grainy look in some parts, but the kind you'd expect from a production on tv back in the 80's. I'd say it feels like a really, really good VHS. The title and credits at the beginning of the film look a bit washed out and the end credits have different colors in the background which look really warm and bright. Film purists and modern DVD/ Blu-ray collectors will likely have issues with the picture, as it does not seem to have much, if any, work put into it like major releases will, but the average consumer probably isn't going to care or even notice. If every title in this collection looked as good, most consumers would be satisfied. Plus, when you pop it into a Blu-ray player the up conversion makes it look even better, making it slightly crisper then in a standard DVD player.
Once you pop it in, the DVD will automatically lead to a very simple, blue menu screen. The screen looks a lot like the case with the "Generations Collection" logo, though much smaller, at the bottom, with the film title bigger at the top, and a really big "PLAY" located in the center. Despite the fact that the DVD does include chapters, there is sadly not an option to access them save for hitting the "Next Chapter" button on your remote once the film has started. There are also no subtitles and the only language on the disc is English.
Once you hit the "PLAY" option, the disc will start playing the various legal messages typically found on studio DVD and Blu-rays, and then go right into the film. It would be nice to have at least an original tv ad for the film, and it would be great if future titles released had at least a small something. However, chances are not looking good that such a thing will come about, at least any time soon.
A great film that teaches the importance of being true to yourself, I'd highly recommend Student Exchange to families looking for an alternative to modern family films, fans of classic Disney Channel, and 80's enthusiasts. Film collectors, however, may wish to skip it as it does not boast the best possible picture or sound and is very bare bones. But fans of this film will still want to pick it up if only to remember the past. At $19.99 list price however, consumers on a budget wishing to purchase the film may want to wait until the price drops a few dollars first.
Buy Student Exchange
HERE
.
Photos: Disney Wiki, disney.wikia.com
The Mickey Mindset: mickeymindset@gmail.com