The Muppets Omnibus Review:
Mitchell Stein-
Back in 2009, Disney and Boom Studios released a series of Muppet Show Comic Books, written and illustrated by Roger Landridge. The books were so incredibly successful that they were all sold out on the first day, and it went back for another printing. Disney of course released follow-ups to this comic books with many more after, including
The Treasure of Peg-Leg Wilson, On The Road,
and
The Four Seasons.
Now, you can own all of the great Muppet Show comic books in one collection. The Muppets Omnibus features comics from the original issue, "Meet the Muppets" up until last years' "The Four Seasons" in one big giant collection re-printed under the Marvel Comics brand.
Not only are the comics fun to read, but they also said to be the inspiration for some elements in the Disney Muppet films, including Kermit's doppelganger Kismet the Toad and Animal's fear of drumming and others. While not all of the Muppets translate into 2D artwork, it's the story here that matters and not about the art. The story is wacky, fun and interesting. The various different variety sketches are funny and Muppety worthy of an episode of The Muppet Show, especially if the Muppet Show started off as a comic book.
Not only does it feature Landridge's popular comics, but it also features Muppet comic "Pigs in Space" where Fozzie and Rizzo try to pitch a "Pigs in Space" feature film to two grumpy old Hollywood producers, played by the Muppets' resident grumps, Statler and Waldorf. I absoloutley love this comic as the story is perfectly wacky and zany and everything a Muppet comic should be. The wonderful artwork is by Shelli Paroline, but she is only credited as an artist, so I am left to assume the story was written again by Roger Landridge.
Of course, it features Muppet Show comic books by
Amy Mebberson.
Amy has had quite a history with Disney drawing not only Muppet characters, but many Disney characters for comic books and character design. I absolutely love Amy's style of artwork. Somehow, every character always looks spot-on and translate so well into comic form. It's really beautiful artwork, and I am a major fan of Amy Mebberson's continuous collaborations with the Disney Company.
The Amy Mebberson issues "Family Reunion" mark the return of many famous characters, including Skeeter, Andy and Randy Pig, Robin, and Emily Bear. It's a lot of fun and it's great to see these characters back in some form.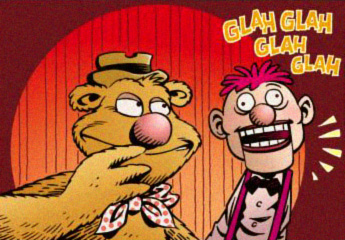 Overall, if you haven't yet picked up the copies of the comics, I suggest you pick up a copy of this collection. It's a fantastic collection of the brilliant Muppet comics, plus the original Muppet comics that Roger Landridge wrote and drew for Disney Adventures magazine plus concept art, original sketches and various cover arts. There's lots of fun to be had in this edition, so I highly suggest Muppet fans that like to read should check this one out.

Muppets Most Wanted Read-Along Review
Mitchell Stein-
I actually got this book over a month ago, but I was too afraid to open it until I saw
Muppets Most Wanted,
as I really abhor spoilers. But now that I read and
reviewed the fantastic film
, I was ready to open this to review.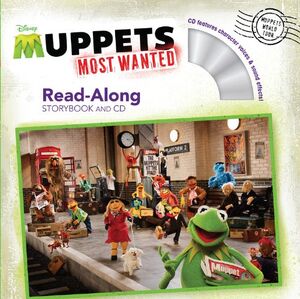 Following in the Read-Along series based off of Disney films, the
Muppets Most Wanted
read-along features the story of the film along with a CD that your child can listen to and read-along with the book in their hands. The speaking is slower-paced so beginner readers can read along, and it also features audio from the movie when one of the characters are quoted. This book is really geared towards the younger audience of Muppet fans, and it's a great way to help your kids learn how to read.
Also, be sure to check out some other read-alongs in the series, including
The Little Mermaid, Peter Pan, Frozen, The Lion King, Planes,
and a lot more classic Disney films.
Muppets Most Wanted Read-Along is now available to own.