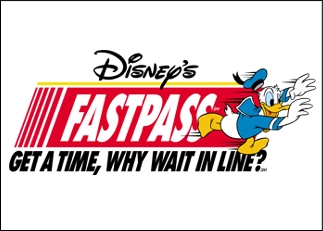 The classic Disney's FastPass logo since 1999
Mitchell Stein
- With the traditional FastPass system being shut-down and stored away, Disney started to roll out their brand-new FastPass system named "
FastPass Plus
" in Disney World this past week. So I decided to head down there and check it out for myself.
The new FastPass experience begins right when you walk up to the park. The traditional turnstiles and card swiping machines are gone and replaced with a simple stand to tap your brand new card against, scan your finger and walk in right away.
Photo: Walt Disney World Resorts
The new FastPasses are linked to the
MyMagicExperience
which hasn't been fully opened to the general public yet. Guests staying at a Disney World resort can choose to test out the all new "
MagicBand
" which is a new band that wraps around your hand and stores all your info, such as FastPass reservations, your room key, and even allows you to pay for things in the parks when you connect it to your credit card as well (it can be hard to watch your wallet at times when paying is this simple, just keep in mind what you're spending while in the parks).
If you have a MagicBand, you have the option of reserving FastPasses and restaurant reservations up to six weeks prior to your visit. If there's an attraction you really don't want to risk waiting in line for, you can currently do that if you're staying at the resorts.
I'm a big fan of the simple "Tap 'n Go" feature in front of attractions and the parks, but overall, I am not a fan of the new system. Personally, I dislike the idea of storing all your personal info onto one item that could easily be lost or stolen, and I dislike the idea of companies owning personal info. I can allow Disney to scan my fingerprint to get into the park, but that's where I'll draw the line. It's something I try to be careful about. I dunno, maybe I just Britta'd it, but it's just something I dislike.
Personal issues aside, the new FastPass system is terrible for other reasons. On Thursday, we decided to park hop in both Animal Kingdom and Magic Kingdom where we discovered that the new FastPasses don't allow you to reserve FastPasses in two parks in one day. Therefore, if you're hopping, you'll have to choose only three rides out of all those parks. That calls for a lot of frustration and discourages me from park hopping again in the future. Cast members told me they were planning to change that rule since they got a lot of complaints, but for the time being, that's the current rule in the parks.
Another problem is the ability to reserve FastPasses in advance. We arrived at
Disney's Hollywood Studios
at 10:00 when the park opening was at 9:00. We quickly ran to a kiosk (which I'll talk about in a moment) to reserve a FastPass for
Toy Story Midway Mania
as FastPasses for those can disappear very quickly. They were all out of FastPasses, all due to the fact that it was reserved days in advance.
I don't know how anyone in the world can decide what ride they are going to ride at what time. The whole fun of the trip is that it's all spontaneous and you can ride whatever you feel like depending on your mood, but either way, this reservation thing is a big problem. It's almost impossible to be able to eat at
Be Our Guest
restaurant in Magic Kingdom because it's been booked for weeks. I can allow reserving the day of, or a week in advance maximum, but weeks in advance is just unfair to everyone else. Very often these reservations are booked and the people who reserved it don't show up. Of course when someone does not show up at their scheduled time the reservation goes back into the system and whoever can grab it first can get to the ride/restaurant FastPass line. Basically, whoever has the fastest smartphone wins.
The doors to Be Our Guest are closed to all those without a FastPass
The problem with the app on your smartphone is the fact you can only link one guest account to the app. I was travelling with two other people and only one of us had a smartphone with us, so we could not use the app for reserving FastPasses. We had to go to a FastPass kiosk to find a cast member to book our ride preferences for us.
Photo: APinchofPixieDust.blogspot.com
With the new FastPass system, you can choose three and only three attractions, which includes rides, shows, meet-and-greets and sometimes restaurants. Because they don't want everyone picking the most popular attractions, they split the rides up into groups so for example in
Epcot
, Test Track, Soarin', Maelstorm, and the Mickey meet-and-greet are all in the same category and you can only pick one. Everything else is in category two, which you can pick two from.
In
Disney's Hollywood Studios
, you can pick two attractions from the main category (which includes Tower of Terror, Rock n' Roller Coaster and Toy Story Mania) and one from category two. Options vary depending on the park you are visiting, Magic Kingdom has the most attractions, and so most rides are in one category. The times you receive are good for that time (usually an hour) and that time only. Gone are the days where you can get a 1:00 FastPass and come back at 6:00 and still ride. Since its all-digital now, you won't be able to walk on after your time is up. Keep this in mind before planning to see a show or doing anything else time consuming.
Just so that more people can pick more from category two, they added FastPass machines to attractions that never had
FastPasses, such as
Muppet-Vision 3D, The Great Movie Ride,
and many shows.
To be honest, I'm not a fan of Disney grading their attractions either. Because they don't want everyone only booking the most popular attractions, they grade their rides into categories to tell you what you can pick the most of depending on the grading system.
To book FastPasses if you don't have a smartphone, you have to look through the park to find a FastPass kiosk, which is usually filled with people who are just as confused about the system as you are (so basically, there's usually a lot of people on those lines.)
I guess eliminating FastPasses was supposed to shorten attraction lines, which it does quite well. It just moves all the lines to the FastPass kiosks instead.
A FastPass Kiosk in Tomorrowland
I honestly can't figure out why Disney continued to go ahead with this, although it costed them so much money and effort. I like the idea of the MagicBand which will help create unique experiences such as meeting Mickey and he can interact with you depending on your info. If you rode Test Track in the past year and a half, you'll be familiar with the system, except that in storing info about the car you designed, you're storing personal info, like credit cards, home phone numbers, email addresses, room keys, fingerprints, and a lot more around your wrist.
This does not make me love Walt Disney World any less. I still hope to visit a lot more in the future, but if you are planning to head out in the next couple of weeks, just beware of the brand-new system. I suggest you arrive to the parks early to ensure FastPasses (
Toy Story Mania
runs out extremely fast, most than any other attraction in WDW) and upon arriving, never use one of the kiosks near the front of the park. Head to a kiosk near the back, where's there's a lot less people. It'll save you a lot of time.
Of course, I appreciate that Disney includes their FastPass experience free with your price admission while other theme parks charge extra for that feature, but I will have to admit I preferred the original system better.
My solutions? Drop the reservations in advance thing. FastPasses should be on a first-come, first serve basis. Three attractions is a small amount. I think five per guest would be a nice and fair amount. I think this would improve the system a lot.
Eventually, people will get used to the system and the kiosk lines will be short. But if you're going in the next few weeks, just plan out your day accordingly.
Above all these current complaints, don't forget the system is only in it's first couple of weeks, so things will tend to get a little wonky at times. This post is really aimed for guests planning to visit within the next couple of weeks and to learn how to avoid problems and save time. Hopefully all of the mentioned problem will be fixed shortly.
Some
TIPS
:
I would suggest you arrive to the parks early to ensure FastPasses. FastPasses would always run out quickly, and the new system is no exception.
Toy Story Mania runs out extremely fast, most than any other attraction in WDW. Keep that in mind when booking your FastPass schedule.
Don't use the FastPass+ kiosks near the front of the parks. For shorter lines, head further into the parks to find another kiosk where there would be less people.
Don't use your FastPasses on attractions that don't normally have lines. For example, It's Tough to be a Bug! normally doesn't have a line longer than 5 mins. You may want to use your FastPasses for the other park attractions that would have longer lines (i.e. Expedition Everest, Rock 'n Roller Coaster, Space Mountain, Peter Pan's Flight, Toy Story Mania etc.)
Beware what you're spending with the MagicBand. When it's so easy to pay, you can lose track of how much money you're actually spending. Keep in mind your money when tapping for a pair of Mickey ears.
Keep your MagicBand on you at all times. If lost, purchases can be made in stores without your knowledge. If lost, contact the nearest cast member, who will let you know how to cancel your MagicBand and how to receive a new one.
Don't use your FastPasses on shows. I guess the FastPass ensures you a better seat, but to be honest, you can see from wherever you sit. Save your FastPass for long attraction wait times.
Have you been to Walt Disney World lately? Have you tried out the new FastPass experience? Let us know your thoughts in an email at mickeymindset@gmail.com!
The Mickey Mindset: mickeymindset@gmail.com