Today's highly anticipated blog post comes in from the blog's good friend Chase Beecher. Chase delivers a truly inspiring story that will touch the heart of every Muppet fan. This article was totally worth the wait.
Chase Beecher-
In my line of work, I sell Apple computers. Sounds real Muppety, I know. I am shameful, though. I always use pictures of Kermit to show off the beautiful retina display on a new iPad, or I show the "Muppets Most Wanted" trailer to sell the Apple TV. It's un-paid promotion, and my coworkers have caught on, and I don't care. It's a good excuse for me to see some Piggy during my work day.
I had a curious day last week. I had an experience I never planned to have as a Muppet fan. I had a family walk into my store. (we are called Simply Mac. We are an Apple Specialist. We are expanding. Expanding! But, I digress.) A mom, dad and their little son walked in and started toward the Macbook Pro laptops. Their little boy was about 8 or 9. As I approached them, he was asking a lot of questions and was very loud. This is not my favorite thing. But, I ran over to see if they needed any help anyway.
As I approached said family, I noticed this little boy was carrying a large stick. White. He was totally blind. How did I miss this when they first walked in? I always notice these things. Oh well. Mom was asking me all sorts of technical questions about Apple. Boring stuff you don't want to read. She really wanted to know if investing in an Apple would benefit her son. If it would support the programs he
needs to learn and be educated. (Let's debate this in the comments section! Not. Let's not!)
I showed her some speech programs that allows the computer read articles to you. We talked more boring things. Here is where it gets interesting and Muppety. The little boy finally started tugging on my shirt and asking "HEY! HEY! WHAT IS YOUR NAME!?" "My name is Chase. What's your's dude?" "My name is Tyce. I love the ABC's. Can this computer read me the ABC's?" I crouched down to his level, googled the Alphabet and had the computer speak it to us. I then had a better idea.
"Hold on Tyce. I have one better" I then went to youtube and pulled the video of Kermit and a little girl listing the ABC's and she insists Cookie Monster is a letter. "Hey!! THAT'S MY FRIEND KERMIT!!" Tyce yelled. I mean yelled. He just lit up like the tree in Rockefeller Center and yelled. We listened to the video and tried to repeat the ABC's with Cookie Monster as a letter. "Can I listen to my friend Cookie Monster? I love Kermit and Cookie Monster and Big Bird.," he told me. "I do to, buddy. My
favorite is Grover! He is always trying to help, and fails but never gives up," I said.
Sesame's Youtube page
has a video of all the characters singing the alphabet. Tyce was over the moon. We watched it three times. His mom and dad just sat there dumbfounded. Maybe it's because they found a grown man on their child's age level. Maybe they were in awe.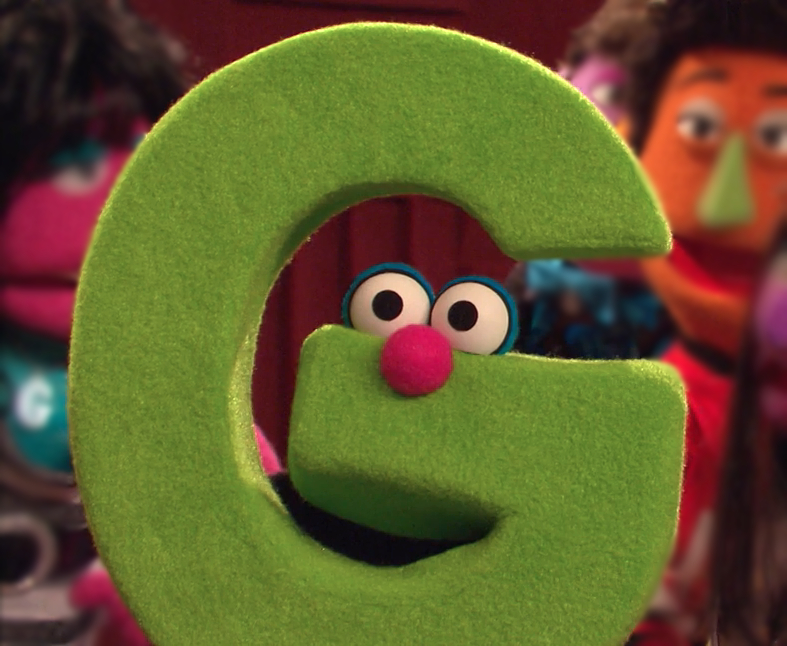 When Tyce left the store, he made sure to tell me that we were friends and I told him that he could come back any time and do the ABC's with me and his friend Kermit. I also told him not to whack anyone with his cane. He didn't make any promises.
My cold heart may have grown two sizes that day. Jim used to say, "This is bigger than all of us." That applies for us fans, too. Others know Kermit and Grover and Fozzie and Piggy. Even if they have never, ever seen them. There is power in that my friends. Others may not have that passion that you and I do over this group of weirdos, but we can all have these fun little special moments. Sometimes it's easy bein' green.
You, too, are also welcome to swing by and sing the ABC's with me and our friend Kermit if you are ever in Utah.
Chase Beecher is a comedian and a blogger, and can be reached on Twitter (@chasebeecher) or on Facebook. Please don't call his mother's house.