Michael Wermuth-
I didn't have The Disney Channel until it switched from premium to basic cable in 1997, but I did get to watch the channel often before then, at my babysitter's house and on special weeks when The Disney Channel was available for free. And I must say, the channel was a lot better back then than it is now (not that I watch the channel voluntarily very often now). It had a wide variety of non-Tween programming, lots of classic Disney shorts aired, the channel's Vault Disney block contained stuff like Disney's classic anthology show (the channel always listed it as "Walt Disney Presents", even though it had other titles), and the original Mickey Mouse Club (as well as The New Mickey Mouse Club), the channel aired a lot of non-Disney programming (and maybe that's still true now, but back in the past Disney aired various Jim Henson productions long before buying the Muppets, lots of Peanuts specials and movies, and even some of the Looney Tunes compilation films, among other properties), and of course original programming. And in an age where all kinds of retro shows have been released on DVD, I must ask this: How come none of the classic Disney Channel shows have been on DVD?
Why do classic shows from the early years of The Disney Channel need to be released on DVD? Well, technically, they don't need to be available on DVD, and I'd much rather have most of The Disney Afternoon shows be completed, but it'd still be nice to see these old shows on DVD. But what were the most memorable original Disney Channel shows of the 1980s and 1990s?
Well, there's
Dumbo's Circus
. That was a decent show. It used puppet and costume versions of Dumbo, plus a variety of characters not from the classic animated movie. I don't really remember the names of the other characters, and there's really only one episode I remember, but it had quite a catchy theme song. For some reason, Timothy Mouse wasn't on the show, though there was a Koala who resembled the character a bit. It would have been nice if at least one episode had been on the Blu-ray of
Dumbo
(well there's always the next release…).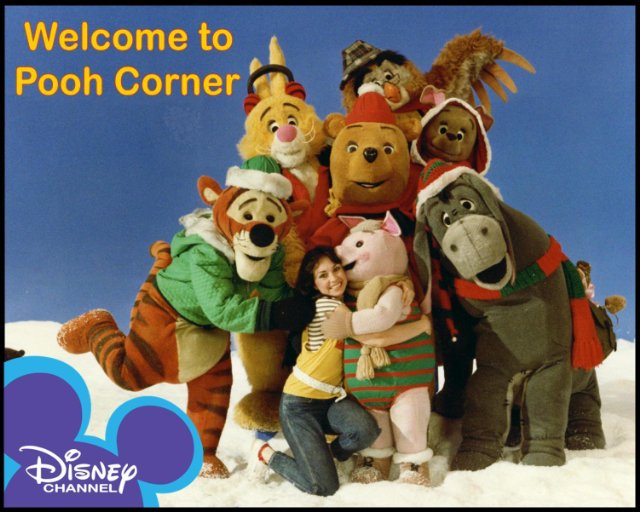 Perhaps a better-known show with costumed and puppet versions of classic Disney characters was
Welcome to Pooh Corner
, featuring the Winnie the Pooh characters. This show featured an on-screen narrator, a story involving the characters, a song segment (I think these were repeated in multiple episodes, much like the various segments from
Sesame Street
), and another segment with the narrator talking to one of the characters. This series also spawned a fairly infamous PSA special called
Too Smart for Strangers
(I actually don't remember seeing that show). Out of all the shows I'm mentioning in this article, I am most surprised that this show hasn't had a DVD release, especially considering how much of a cash chow franchise Winnie the Pooh has been in the past decades. I heard a rumor that when the 2011
Winnie the Pooh
movie was released that Disney wasn't releasing any new Pooh DVDs out of fear that consumers would confuse them for the movie, but how could anybody confuse
Welcome to Pooh Corner
for the 2011 film? I especially liked the songs that appeared on the show. It'd be great to hear Pooh and Piglet's "Please is a Good Word", Eeyore's "Yes I Can", or Piglet's "Say Hello" songs again.
Another show on the channel is it's own version of
The Mickey Mouse Club
, commonly referred to as
MMC
. This version didn't really interest me as a kid (I was expecting animated segments, which were not included, plus other elements of the original series which this show avoided). This show was pretty much a teen variety show. Many of this show's Mouse-Kateers would go on to be famous pop stars in their own right, including Brittany Spears, Christina Agulerro, and N*sync's Justin Timberlake and JC Chasez. So maybe it's not pop artists I'm interested in, but that fact alone should have gotten this series a DVD release by now.
The final series I'm going to talk about is
Adventures in Wonderland
, based on
Alice in Wonderland
. Each series was bookened by scenes of Alice in her room in the real world. The structure would be: Alice would talk to her cat about some sort of problem she's having, she enters Wonderland through her mirror, the plot would somehow be related to her problem, and she'd talk to her cat about the experience and have learned a solution to her problem. So a lot of characters were different from their animated Disney counterparts, and the Queen was a lot nicer (not the kind of person who'd shout "OFF WITH HER HEAD!"), but they pretty much got The Chesire Cat right. It's especially puzzling that this series didn't get a DVD release when Tim Burton's
Alice in Wonderland
got released.
Maybe those shows will get released on DVD someday, but only time will tell. I should point out one show I am aware I didn't talk about:
Kids Incorporated
. I didn't talk about that show because Disney doesn't own the rights to it (though Disney does have the master tapes in its vaults).
What's your favorite retro Disney Channel TV show? Which show do you want to be released to DVD most? Feel free to share your thoughts in the comments below!
The Mickey Mindset: mickeymindset@gmail.com