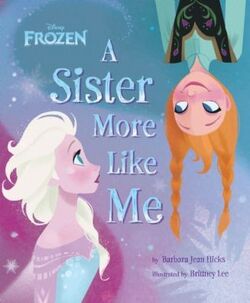 Mitchell Stein
- Disney released a handful of brand-new books tied to some of their most popular franchises in the past month. Today I'll be reviewing a few of these books, including Frozen, Doc McStuffins and a new Disney Buddies book.
Frozen: A Sister More Like Me
This book spotlights Frozen sisters Anna and Elsa which loosely ties the story to the Frozen movie (sort of) to this book, which expands the relationship story between Elsa and Anna, as briefly seen in the film.
The book features beautiful illustrations from Brittney Lee,
who also worked on the concept art for Frozen
and a touching story from author Barbara Jean Hicks. While Elsa and Anna have all their differences, they move past that and they realize that above their issues and differences, they are sisters and they love each other very much. It's a very sweet story. Make sure to check this one out, now available in stores!
Frozen: An Amazing Snowman
Barbara Jean Hicks brings her pen to Frozen again with An Amazing Snowman which showcases one of the film's breakout stars, Olaf the Snowman.
Olaf is great. Brilliantly voiced by Josh Gad in the film, he is worthy of becoming one of the greatest and beloved characters in Disney history. This book showcases Olaf's love for summer, his dreams and ambitions. According to the book, Marshmallow is Olaf's brother. I guess he is technically, since they were both created by Elsa. That case is still pending by Frozen experts.
With some really talented pictures by artist Olga T. Mosqueda, this book is another sweet, short and fun Frozen book from Disney. It is worth a look, and your kids will love it.
Disney Buddies: Puppy Love
This book is supposed to tie into Valentine's Day, and features the Buddies franchise (from movies Air Buddies, Super Buddies, Treasure Buddies) in an all new story. With the Valentine's Dance only days away, B-Dawg is getting nervous and can't decide how to ask out the town's newest pooch to the dance. (Wait. Dogs have Valentine's Day dances?).
If you or your kids are a fan of the ongoing Buddies franchise, give this book a look. It also has stickers! Nothing gets more exciting than that.
Doc McStuffins: Chilly Catches A Cold
Also based on a popular franchise, Doc McStuffins, a popular Disney Junior show that fully inspired this book as it's based on an existing episode. I haven't actually seen a full episode of Doc McStuffins, it's one of those kids' shows I just don't fully understand, but then again, I'm not exactly the target audience.
In this book, Doc (who is four years old, just to clarify) takes her toys outside to play in the snow. But when Chilly catches a cold, Doc decides to check up on him. The book teaches kids about different medical info and teaches kids how to be safe and healthy and how to avoid getting sick. I bet it also helped kids not to be afraid of the doctor as well.
Overall, if you have any kids who are fans, this book is worth a look as well!
That's four illustrated children's books that you should go and check out soon! They're fun and a great read for the kids!
The Mickey Mindset: mickeymindset@gmail.com