Mitchell Stein-
Big news these past couple of weeks! First off, taking place just yesterday, popular pop culture rendition group
The Piano Guys
released their latest video, which is a brand-new beautiful instrumental rendition of
Frozen's
"Let it Go", which is also nominated for an Oscar for Best Original Song. If you haven't seen it yet, watch it right here:
Also new in Frozen news, it was officially confirmed that
Idina Menzel
would in fact be performing "Let It Go" live at the
Academy Awards
on March 2nd. The Oscars will be hosted by comedian Ellen DeGeneres, who has quite a few Disney connections in her career. Make sure to watch and to cheer Disney on during Hollywood's biggest night.
Also, reportedly a new TV spot for Muppets Most Wanted will air during the Oscars. Be on the lookout for other movie TV spots, and possibly a Muppet cameo (hey, it's possible!).
In Star Wars news, it was announced that the sixth and final season of Star Wars: The Clone Wars has been produced, and it's heading to Netflix on March 7th 2014 in both Canada and the U.S.
The Clone Wars has been running on Cartoon Network since 2008 and then Disney XD before being cancelled without a season finale. The ending will now be finally available to fans, as they get ready for the next new Star Wars TV series, Star Wars Rebels.
As you probably read elsewhere online, there is a brand-new (Disney-Pixar's) Ratatouille themed section coming to Disneyland Paris summer 2014, which is only a few months away. They teased the internet with this video, as well as a piece of conecpt art as to what the finished project will look like. The attraction seems to be currently going under the name of Ratatouille: The Ride, which seems kinda bland if you ask me. I hope they have another name for the attraction in the park, but either way, the ride looks like it'll be a lot of fun. Now all I have to do is catch a plane to Paris this summer....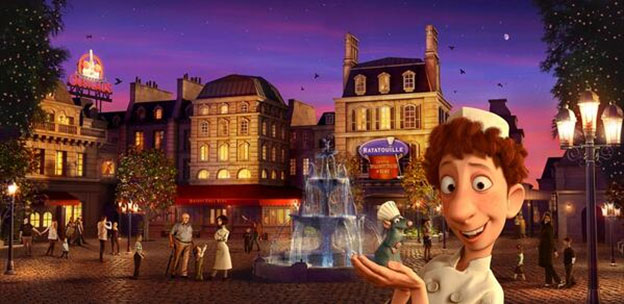 This isn't an official Disney released video, but AVbyte released this fun video, showing Disney princesses taking things into their own hands and being tired of being "damsels in distress".
When Queen Elsa is tired of hearing how all the princesses are waiting for a prince to come and help them, she convinces them that they can handle things on their own and they sing "I Don't Need A Man" with music and lyrics by Anontius Nazareth.
Watch it here, and then make sure to watch some of their other pop-culture videos, such as "Doctor Who: The Musical" and "Harry Potter: The Musical".
Besides Captain America: The Winter Soldier, Marvel has a brand-new film being released this summer, named Guardians of the Galaxy. Marketing for the movie has been rather quiet, but now with the release only a few months away, Disney/Marvel aired the first official trailer during Jimmy Kimmel Live! on ABC on Tuesday night. The movie is released in North America this August.
As well as the trailer, they released the new poster for the movie, which reveals the movie's tag line "You're Welcome" which is quite an amusing one in my opinion. This movie looks like it'll be playing more for the comedy with a large dash of action. The trailer is interesting, but the movie is sure to be promising.
Just in time for Valentine's Day,
Blank: A Vinylmation Love Story
was released online for free and is available for free on the Google Play store. It's free to make an account, so make sure you sign up and download this truly amazing feature.
The Academy Award nominated film, The Wind Rises, from Disney and Studio Ghibli opens nationwide tomorrow! The film marks the last directing job of award-winning director Hayayo Miyazaki. It gaining tremendous reviews and from what we hear, it's pretty good. I suggest checking this one out as well.
In sad news this week,
John Henson,
late son of Muppets' creator
Jim Henson
has passed away.
Read our tribute to John here
and then take a look at how some Muppet magic happens every day with Chase Beecher's new article,
Our Friend Kermit
.
For the last bit of news this week,
Mickey's Jammin' Jungle Parade
which has been performing for the past 13 years in Animal Kingdom will close to make way for 2017's
Avatar
-themed area. The last parade show will be in June,
Inside the Magic reports
. No new parade has been announced yet, but we bid a farewell to Mickey's Jungle Parade as that area gets lots of construction walls placed around it in the coming months.
That's all for this week's news! Have a magical week!
The Mickey Mindset: mickeymindset@gmail.com