Mitchell Stein
- Following up to
Captain America: The First Avenger
and
The Avengers
, The Winter Soldier follows up directly after the events of The Avengers which took place in New York, and Steve Rogers (a.k.a Captain America) is currently trying to settle down in Washington D.C. and adapting to his new current lifestyle in the present day. But when a S.H.I.E.L.D colleague comes under attack, Steve gets tangled up inside a series of events that would ultimately put the entire world at risk.
Ever since Disney purchased the Marvel franchises in 2009, the Marvel Cinematic Universe has grown tremendously with incredible new movies, and they have really outdone themselves this time around, really stepping up the game in superhero flicks in general. This movie steps up from being the "silly comic book" movie with the typical building smashing and the good guy vs. bad guy for two hours. Rather, this movie felt more like a spy thriller, filled with suspense and uncertainty. No one can be trusted any longer.
I won't go any more in-depth than that, as there's just an enormous amount that can easily be spoiled for this movie, but I will say I enjoyed it throughout the whole fim. Although, if you are expecting another version of "The Avengers", you'll be disappointed. The Avengers was a once-in-a-decade kind of film, and therefore is not manipulated in the other Marvel films. This is probably one of Marvel's more realistic movies, which ends up being a fairly good thing.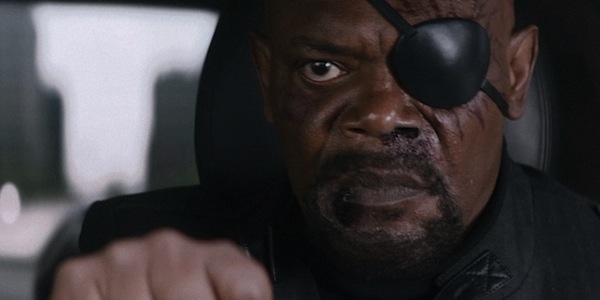 Chris Evans returns to play Steve Rogers, Scarlett Johansson reprises her role as Natasha Romanoff/Black Widow, and Samuel L. Jackson returns to play SHIELD director Nick Fury. One of my favorite things about this film is the spotlight that Fury gets. In the other movies, he's overshadowed by all the other superheroes and only makes cameos in the other ones, but in this installment, we finally get to see some more of Jackson's interpretation of Fury, and he does it rather well. I would have to say that Fury really steals the stage in this movie out of all the characters.
Also starring in the movie is Anthony Mackie as Falcon, and Robert Redford as Alexander Pierce, who seems to be one of the people who currently run S.H.I.E.L.D.
As a fan of
Marvel's Agents of S.H.I.E.L.D
(Tuesdays at 8/7c on ABC) I enjoyed this movie on an even higher level. The two current story-lines inter-connect to each other but doesn't affect any of the continuing stories. Since The Winter Soldier is mostly based around "S.H.I.E.L.D", it would only make sense for Agents of SHIELD to have a tie-in to this film, which is rumored to air next week. I'm assuming this film is really just a preparation for next year's Avengers: Days of Ultron, unless Marvel's Guardians of the Galaxy is also supposed to tie into that film, which there's a lagre possibility which could end up happening.
The Winter Soldier is directed by brothers Joe and Anthony Russo, who you may know from directing episodes of
Arrested Development
,
Community
and
Up All Night
. They translate well into this this new Marvel action thriller, and fill it with a lot of great comedy.
If you didn't know, every Marvel film has an additional scene at the end which teases at an upcoming movie. Please stay all the way until the final credits to see both additional scenes.
Overall, I really enjoyed this film a lot. It really raised the bar in super-hero films and sets the stage for next year's Avengers movie which will wrap up "Phase 2" of the Marvel Cinematic Universe before heading into "Phase 3".
Captain America: The Winter Soldier opens nationwide today across North America