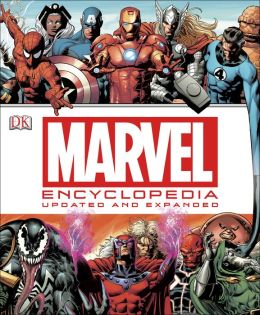 Mitchell Stein-
Well, DK Publishing has done a great job once again. In this latest revised and expanded (strong emphasis on expanded! This thing is huge) edition of
The Marvel Encyclopedia,
the folks at DK have provided us with in-depth analysis and info on much information throughout the entire Marvel world beginning from the early days of Marvel up until today, with the exception of the Marvel Cinematic Universe.
The Encyclopedia gives us info on big-name characters like The Incredible Hulk, Iron Man and Wolverine, as well as info on some more lesser-known characters whom I've never heard of. This book helps readers rack up knowledge on all aspects of Marvel, including some that are large in the cinematic universe. It helps really give some more insight on the Marvel's Guardians of the Galaxy franchise for example, which is being adapted into a film later this summer from Disney/Marvel, so if you are like me and didn't really know anything about the Guardians prior to this movie announcement, this book is for you! This book is also for the die-hard Marvel comics' fan who would like to read about new and old info about their favorite heroes and villains in a fun brand new way and all in one place. It also made me remember how many incredibly strange Marvel characters there are out there (Ego the Living Planet, Egghead, MODOK, Howard the Duck, Hammerhead just to name a few).
I would have to say it was rather disappointing to see the absence of any references to the current Marvel films, but of course the legal contracts surrounding those properties would just be far too complicated, and the chances of seeing live action Wolverine (Hugh Jackman) standing aside live action Captain America (Chris Evans) would probably be very unlikely. It does make references to newcomers like Agent Phil Coulson (in comic book form), Agent Maria Hill, and others. For a fan of Marvel's
Agents of S.H.I.E.L.D
this book sort-of comes in handy too. It gives valuable insight to characters old and recently created that are involved in the show, such as Deathlok, Victoria Hand, Nick Fury and others.
Overall, I've truly become more of a fan of the ongoing Marvel Cinematic Universe (or MCU for short) and less fond of the comics, but overall this encyclopedia was insightful and entertaining throughout. A must-have for any Marvel comics fan!
The Marvel Character Encyclopedia: Updated and Expanded Edition is now available.