Mitchell Stein-
Since it's opening on October 1st 1981, Epcot has been dedicated to discovering the future and the celebration of human achievement, but since it's opening day, EPCOT has seen dozens of changes throughout it's park, including it's own name, being changed from EPCOT Center to just plain Epcot in the late 90's. By far, I'd probably have to say that Epcot probably went through the most changes throughout the years and many of these changes have had quite a significant effect on the park. Right now, I'm going to pay tribute to the past of Walt Disney's most futuristic park.
Original Spaceship Earth Attraction:
Spaceship Earth went through many major changes since it's opening in 1981. The need to be constantly updating th attraction has led to many major refurbishments. The first version of the attraction featured just a few of the same elements found in today's version, albeit going through some major refurbishments.
Horizons: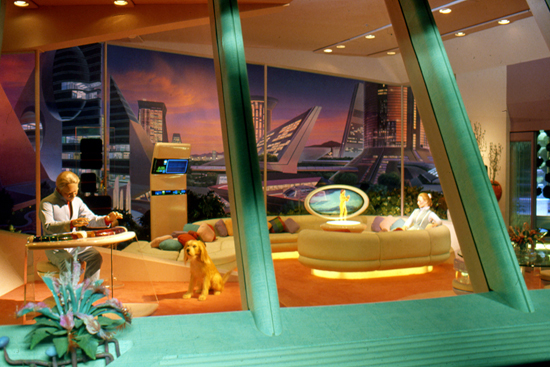 The legendary
Horizons
attraction was probably known as one of the most beloved Epcot Center attractions of all time. Often referred to as the "sequel" to Magic Kingdom's
Carousel of Progress,
Horizons took guests on a voyage through technological advancements throughout time, and what may possibly come in the future, with a lot of really neat futuristic elements. The last section of the ride would allow guests to choose which type of video they would prefer to transport them back to their original time. It was a really neat dark ride located in the spot where Mission: Space stands today and featured the characters from Walt Disney's Carousel of Progress.
Communicore:
Today known as
Innoventions,
Communicore was a pavillion dedicated to technological advancements. It featured some of the most high-tech gadgets at the time, including a SMART-1 robot which used some sort of voice recognition to interact with the guests. It was a lot of fun. Innoventions is great, but it may be lacking something that Communicore always had.
Original Journey into Imagination with Figment Attraction:
When the attraction first opened in 1983, it featured a man dressed in a blue suit and top hat who called himself "Dreamfinder" and would use his Dream Catcher vehicle to catch all sorts of new things. He then creates his own Figment, which looks like some sort of cross between a dragon with the horns of a steer and the mouth of an alligator. Figment and Dreamfinder take riders on a journey through imagination and teach guests what your Imagination is truly capable of.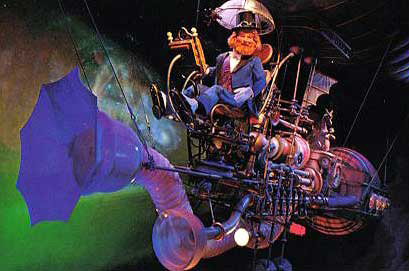 Oddly, the ride was revamped in 1999-2002, being replaced by
Journey into YOUR Imagination
which was basically the current attraction, minus Figment and Dreamfinder. The newly introduced character Dr. Nigel Channing sends riders through various different tests, attempting to prove that humans do not have imagination. In the end, he realizes his mistake and declares that humans do in fact have imagination.
Because of many complaints, the ride went through another renovation, this time re-adding Figment into the experience and renaming the attraction to add Figment's name into it. This time, Figment is now voiced by Muppet performer Dave Goelz (Gonzo, Beauregard, Zoot) after original voice Bill Barty passed away. Dreamfinder has been completely absent since the original version, except for a minor mention on an office door found on the ride which reads "Dean Finder".
Image Works!
Another section of Journey into Imagination,
Image Works
was found on the upstairs of the attraction, where guests would be able to walk around and explore many different unique ground-breaking elements which was explained as being created by imagination. Currently, the upstairs section of ImageWorks sadly sits abandoned and unused. The steps leading up to the former ImageWorks can be seen from the Figment gift shop, but is roped off and off-limits to guests.
Not long ago, a curious WDW guest decided to go up those stairs and check out what remains in that spot today, which you can watch below:
NOTE: The Mickey Mindset does not endorse or suggest this action in any way. If caught, you may be fined or banned from the Disney parks. Attempt at your own risk.
Wonders of Life Exhibit:
This entire pavilion currently sits empty in plain sight, located right beside
Ellen's Energy Adventure,
the former home of attractions like Cranium Command and Body Wars and an entire pavilion dedicated to health and body topics. The pavilion stayed open until 2007, and was then closed up and the attractions were removed and the building only used for some occasional private events. It's quite sad to see an entire pavillion remain empty and in plain sight, so I'm really hoping Disney decides to do something with that large building soon.
Original Test Track:
The new updated Test Track (or Tron Track as I call it) is really cool, but I really miss the old Test Track. The new track doesn't really have much of a story to it. This track allow you now to design a digital car which follows you throughout the ride, which is a pretty neat update if you ask me. Overall, I really loved the previous version of Test Track. As you enter the ride, you pretty much become a "test dummy" for a new car that the people at General Motors (who were the sponsors at the time) are working on. You would be put through different tests, from speed to weather and more. The new track is really great looking, but it lacks the wonderful story element from the previous version.
World of Motion:
The original attraction before the original Test Track replaced it, World of Motion was a slow dark ride taking guests on an adventure through the history of transportation. It was a neat and entertaining ride, but it was closed to make way for the thrill ride
Test Track
which Epcot desperately needed (and still need more of). The new Test Track at Epcot pays tribute to the World of Motion with the original Motion's logo scattered all over the attraction area.
Original The Living Seas: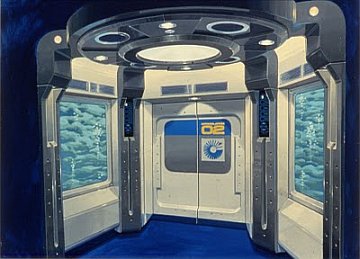 Before being known as
The Living Seas with Nemo and Friends
featuring the cast of Pixar's
Finding Nemo,
The Living Seas would take guests to "Sea Base Alpha" after a short video and elevator ride (or Hydrolator) guests would be brought down to an underwater tank where they felt like they were exploring in an underwater base. There would be a quick ride which would slowly move through an underwater tunnel to get a close up look of the marine life. It was Disney attraction story-telling at it's best.
While The Seas with Nemo is home to many fun new attractions (like Turtle Talk with Crush and an all-new dark ride) I can't help but look back at the original attraction and miss some of the incredible element that it was home to.
Captain EO/ Honey I Shrunk The Audience:
If the Honey I Shrunk the Audience would still be open today, I would be paying tribute to it's former attraction,
Captain EO
starring Michael Jackson, but after Jackson's death a few years ago, Disney
temporarily
re-opened a Captain EO tribute playing the film in the Imagination Institute theater (just minus the in-theater effects) and it's still open today.
According to Michael Jackson: Grasping the Spectacle
the seventeen minute show costed an estimated $30 million dollars to produce, averaging about $1.76 million per minute.
Personally, I prefer the show that originally replaced Captain EO, which replaced Magic Journeys, which is the beloved
Honey I Shrunk the Audience.
The 4D film was based off the popular Honey I Shrunk the Kids films (and it's two sequels) starring Rick Moranis reprising his role as Dr. Wayne Szawlinski. After some new science demonstrations go wrong, the shrinking machine goes out of control and accidentally shrinks the audience. There was this really great scene where one of the kids stick their arms into the screen and supposedly picks up the entire shrunken audience, which can also be seen on screen as he holds it up to a mirror. It was a really fun attraction with some really great 4D effects. Normally, it would seem unlikely for Epcot to bring that film back, but since Captain EO Tribute opened up, anything is possible.
Original Universe of Energy:
I actually really prefer the current version starring Ellen DeGeneres and Bill Nye the Science Guy, (although I think it's a bit too long) but it would be odd to not mention the original
Universe of Energy
attraction. The original attraction was home in the same building layout, but not nearly as entertaining as the Ellen version.
You can watch the entire original ride-through online
.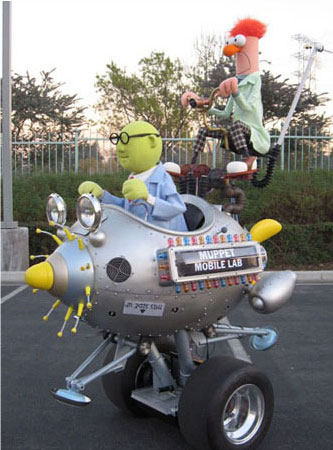 Muppet Mobile Labs:
This isn't really an attraction per say and not exclusive to Epcot (it was also in Disney's California Adventure for quite some time) but I really loved the Muppet Mobile Labs, which featured an Animatronic Dr. Bunsen Honeydew and Beaker, which drove around the parks interacting with guests. The characters lines were pre-recorded with fifty three different scripts for each case scenario, but the vehicle would be controlled by a cast member nearby. It was a truly great creation and at the 2009 Expo, they announced that a second unit featuring the Electric Mayhem was in the works, but no word has been hear about that project since.
I'm hoping that Muppet Mobile Lab can make a reappearance in one of the parks in the near future.
The Mickey Mindset: mickeymindset@gmail.com