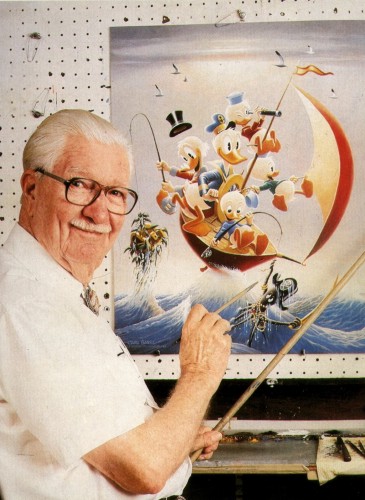 The name Carl Barks doesn't quite ring a bell to the average person, but the impact he had on many Disney fans' lives were tremendous. From his work as an anonymous artist working for Walt Disney in the early days of the studio. Carl was one of the few people who developed Donald Duck and his nephews, Huey, Dewey, and Louie.
Fans of the
DuckTales
series definitely have a lot to thank Mr. Barks for. Carl was behind creating the entire city of Duckburg, with the show's main character Scrooge McDuck, the Beagle Boys, Gyro Gearloose, Gladstone Glander and many more.
Disney fan and filmmaker Geoffroy Koeberle hopes to capture and pay tribute to the life and works of Carl Banks, who worked to create some of the most beloved characters and stories of the twentieth century. Geoffroy Koeberle worked as an assistant director on
several major Hollywood films
, including some recent films like
Transformers: Dark of the Moon, Midnight in Paris
and
Three Days to Kill.
"Carl Barks: The Duck Man is a film that will look to the readers and fans of duck stories and Carl Barks artwork to tell the story of the strip and its creator." It's offical Indiegogo page says. "As we explore the art and impact of Carl Barks through this unique perspective, the undying appreciation and love of duck and the man behind it will be evident in the anecdotes, stories, and memories shared by readers of the strip and friends and colleagues of Carl Barks." The film is also to be narrated by John Goodman.
You can check out more details on this project through
this link
to their campaign page. If you are a fan of Donald Duck, Scrooge McDuck, or of DuckTales and would like to see Carl get the honor and recognition due to him, be sure to pledge your donation to the project in order to see this get accomplished!
You can watch the main campaign video right here. Be sure to check out their page for even more videos from the film.
NOTE: This project is not affiliated with The Mickey Mindset. For further questions, be sure to contact the team at carlbarkstheduckman@gmail.com.